Le Pr Mohamed Ridha CHARFI, président de la Société Tunisienne de Pneumologie,
a insisté sur le fait que la frontière entre asthme et BPCO est floue et que la distinction entre ces 2 maladies n'est pas toujours claire. L'asthme sévère peut s'associer à une inflammation plutôt de type neutrophile, responsable d'un TVO moins réversible et moins sensible aux corticoïdes. De même certaines formes de BPCO peuvent présenter une infiltration de type éosinophile rendant l'obstruction bronchique plus réversible et plus sensible aux corticoïdes.
Récemment, un nouveau phénotype de BPCO est individualisé, appelé syndrome de chevauchement ou Overlap syndrome. Il s'agit d'une forme de BPCO qui se caractérise par des symptômes d'une obstruction bronchique très variable et incomplètement réversible. (Piras B, Miravtlles M. The overlap phenotype: the (missing) link between asthma and COD. Multidisciplinary Respiratory Medicine 2012;7:8. – Hardin M et al. The clinical features of the overlap between COPD and asthma. Respir Res 2011;12:127.)
Le Pr Wajdi Karim REKIK a ensuite « revisité » la courbe de Fletcher et Peto (1977)
en expliquant que cette courbe a permis de réaliser un bond considérable dans la compréhension de l'histoire naturelle de la BPCO. Toutefois il convient de ne pas réduire l'histoire naturelle de la BPCO à l'évolution du VEMS, mais il reste aujourd'hui à étudier l'évolution d'autres paramètres, tels que l'inflammation locale ou systémique, et à préciser les différences qui caractérisent l'histoire naturelle des divers phénotypes de la BPCO.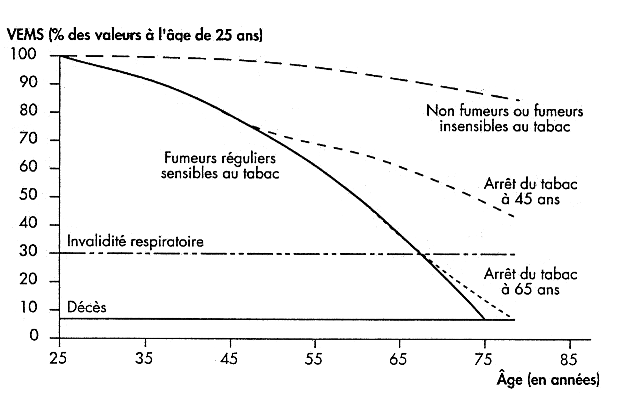 Enfin, le Pr Hichem AOUINA a fait une mise au point sur l'intérêt des biomarqueurs dans la BPCO.
Il a précisé qu'un grand nombre de biomarqueurs ont été évalués au cours des dernières années dans la BPCO à différents niveaux:
Au niveau de l'air exhalé : NO, Isoprostanes, LTB4…
Au niveau des expectorations induites : Neutrophiles, Eosinophiles, IL-8, Apolipoprotein A1, Lipocalin 1…
Au niveau du LBA : Lymphocytes CD8, Neutrophiles…
Au niveau du sérum : CRP, Fibrinogène, SP-D…
(Vestbo J et al for the ECLIPSE Investigators. Decline in FEV1 in patients with COPD: Variability, determinants and biomarkers. N Engl J Med 2011;365:1184-1192.)